When : July 13th 2017
Where : Faculty of Sciences, Campus Valrose, 28 avenue Valrose, Nice, FRANCE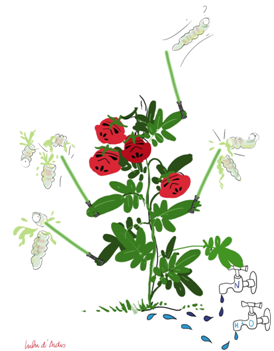 Despite strong demands of environmental and economical friendly methods, pesticide use largely dominates in the framework of IPM strategy (Integrated Pest Management). The biological control, based on natural biological processes and materials, could be an alternative and efficient approach. Many of these processes and/or materials involve chemical interactions. Chemical ecology deals with the intriguing chemical mechanisms which help control intra- and interspecific interactions among living beings. Research of chemical ecology is concerned with the identification and synthesis of the substances which carry information and with the developmental, behavioral, and ecological consequences of chemical signals.
The goal of the workshop "CheckIn Bio" is to highlight the input of chemical approaches as solutions for some biological control issues. Chemical ecology could be a key approach to improve biological control through the optimization of biopesticides and Volatile Organic Compounds and Plant defenses.
PROGRAM
8h30 Welcome and registration
9h00 CheckInBio introduction
9h15 Cédric BERTRAND, University of Perpignan, France From biomass to environmental evaluation uses : an holistic approach for biocontrol products development
9h45 Antonio BIONDI, University of Catania, Italy Toxicity of essential oils on the cotton aphid and the South American tomato Pinworm
10h15 Lucia ZAPPALA, University of Catania, Italy Non-target impact of essential oils the predator Nesidiocoris tenuis, on the soil microbioma and on the plant
10h45 Orlando CAMPOLO, University "Mediterranea" of Reggio Calabria, Italy Essential oil nano-formulations for insect pest control
Coffee break
11h30 Jens Rolhoff, Norwegian University of Science and Technology (NTNU), Trondheim, Norway Metabolomic techniques towards stress and defense metabolism in Brassicaceae
12h00 Romain LARBAT, LAE INRA-Lorraine University, France Metabolic responses of tomato plants to Pseudomonas sp. infection
12h30 Pierre-Marie ALLARD, University of Geneva, Switzerland New tools and approaches for the mapping and identification of small molecules in microbial and plants metabolomes
Lunch time
14h30 Audrey Errard, IGZ, Leibniz, Germany Comparing VOC trapping systems
14h45 Markes International, United Kingtdom TD-GCxGC TOF-MS for the analysis of natural products
15h00 Christine BECKER, Institut Sophia Agrobiotech, Nice, France Scent of a tomato - biotic and abiotic impact on VOC blends
15h30 Mike BIRKETT, Rothamsted research, United Kingtdom Recruitment of ecosystem services for pest management using smart plants
16h00 Emmanuelle Jacquin-Joly, INRA - iEES, Versailles, France Insect chemosensory receptors : new targets for the development of innovative approaches of crop pest biocontrol
16h15 Louise Van Oudenhove, INRA , Institut Sophia Agrobiotech, Nice, France Behavioural ecology meets chemical ecology : development of an innovative biocontrol device
Free Registration but online subscription required, please send an email to : thomas.michel@unice.fr
The workshop "Check-in Bio" is organized in the framework of the STOMP project (Sustainable Tomato Production), funded via the ARIMNet2 2015 Call (EU-funded ERA-NET). "Check-in Bio" workshop is also funded by UNS and INRA as well as supported by the BOOST project (IDEX UCA) and the GDR Mediatech.